Hi Tudor and All.
I'm trying to get some idea for AHB based UVM Verification with a very small ARM Cortex-M3 SoC architecture.
Here's my example M3 architecture.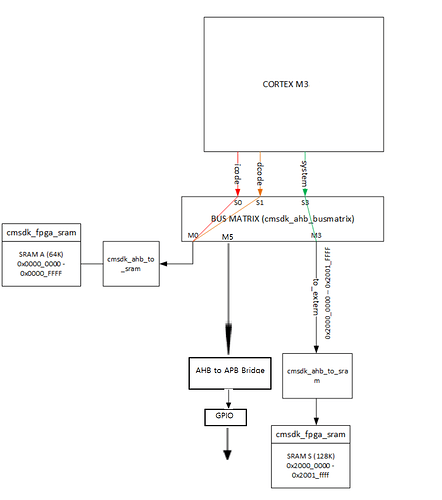 As you can see that attached image, there are 2 memory and 1 GPIO slaves.
If I want to verify a GPIO slave by using an AHB VIP(such as GitHub - GodelMachine/AHB2: AMBA AHB 2.0 VIP in SystemVerilog UVM) then How do I verify the GPIO DUT Slave?
There is a very simple firmware also in. So I can't remove the whole system except AHB to APB bridge and GPIO DUT Slave. I should verify the GPIO dut slave with CPU.
I thought that I would need to make a Slave port in the BUS Matrix(cmsdk_ahb_busmatrix) for verification only? but I'm not sure about this. Could you please guide me how to verify the GPIO DUT Slave such as this architecture?